Hello again all,
Sadly, we did not have any items claimed in June.
I get asked about VIN sequence as it relates to actual build sequence quite often, so I am going to use our July IOTM to illustrate something for you. Most folks assume that these cars were built in order based on the VIN number. This is a common myth. All of the plants built cars out of sequence for whatever reason, it is something I am researching in-depth for 1970 right now.
Think about this.....
Hamtramck had two assembly lines. So, IF (big if) the cars were built sequentially by VIN, odd numbered cars would have to come from one line, while even numbered cars came from the other. They would also have to time each build EXACTLY so one line did not get ahead of the other to have the cars leave "in order" sequentially.
Did they do it that way? Nope. It would have slowed the lines down to a crawl trying to micro-manage it to that degree.
The actual broadcast sheet sequence numbers have a whole lot more to do with the actual build sequence than the VIN does. As an example, broadcast sheet # 1000001 was printed for BH23G0B100052.
So, right there, for 1970 Hamtramck started 51 VINs behind.
The broadcast sheet number was also referred to as the "Job number".
Back to our July IOTM now, we have a broadcast sheet that was found in a bucket seat of a Challenger T/A (See the March 2007 IOTM for more info) This sheet is for JS23V0B278082;

Note the text I inserted in this photo of the T/A sheet & the R/T sheet that was found in it;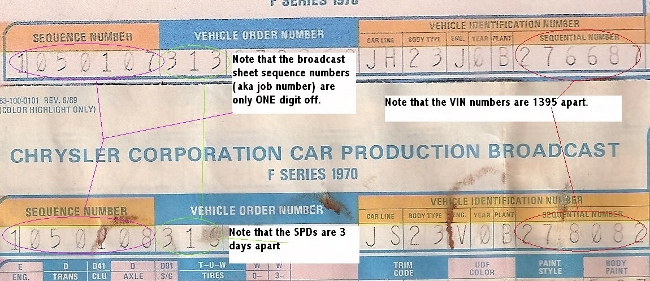 Pretty dang interesting is it not? The Scheduled Production Dates (SPDs) are right out the window, obviously they did not wait three days to produce these two cars back to back. Folks often assume that the SPD is the actual build date & for some cars it MAY be, but truthfully there is just no way to know. This is just one example of this, I have seen it many times now.
Research, as always, continues. If you have an original 1970 Hamtramck broadcast sheet, please contact me with a scan or photo copy. I am trying to figure out what triggered the cars to be built so far out of sequence. The sheets I have seen so far are mostly for the E-Bodies, I would LOVE to see more broadcast sheets for the Valiants & Dusters, it would really help me with my research. Seeing broadcast sheets found in other cars really helps too as you have seen. If you find one for a different car, please let me know what car it came out of.
This sheet is free to the owner of the car with proof of legal ownership & proof the car still exists.
Thanks once again to everyone who has helped out along the way & please have a safe 4th of July!
Barry Washington