Welcome to Hamtramck-Historical.com, the Official Website of the Registries for all the 1970 models built at the Hamtramck & LA assembly plants. All are accepted regardless of condition or engine size. VIN and code information from parts cars & parted cars is appreciated as well! To register, please click on the 'REGISTER' button at left to print out the form. We are also home to the largest FOUND section of its kind, so be sure to check for your VIN in that section, it is updated as new items are found & sent in. The registries & found section are maintained by Barry Washington at:
Hamtramck Historical
4511 Spring Road
Shermans Dale, PA 17090-9403
Current 1970 Registry counts => Hamtramck: 12,793 Los Angeles: 2,899
Found Item of the Month — February 2018
Previous Found Items of the Month

Four more items were claimed last month! What a great way to start the new year. :-)
We also had four items sent in for a 1970 Challenger, the VIN is JH23C0B359781 - Ray sold the car & forgot that he had these two broadcast sheets, the Consumer Information sheet & the original warranty in his safe. He had sold the car & when he found these, he contacted the buyer, but that buyer had sold the car in 2014 & did not keep a record of the new owners name, so all we know is that it went to Missouri. It was a 48,000 mile car in excellent condition when Ray sold it, so chances are quite high that the car still exists!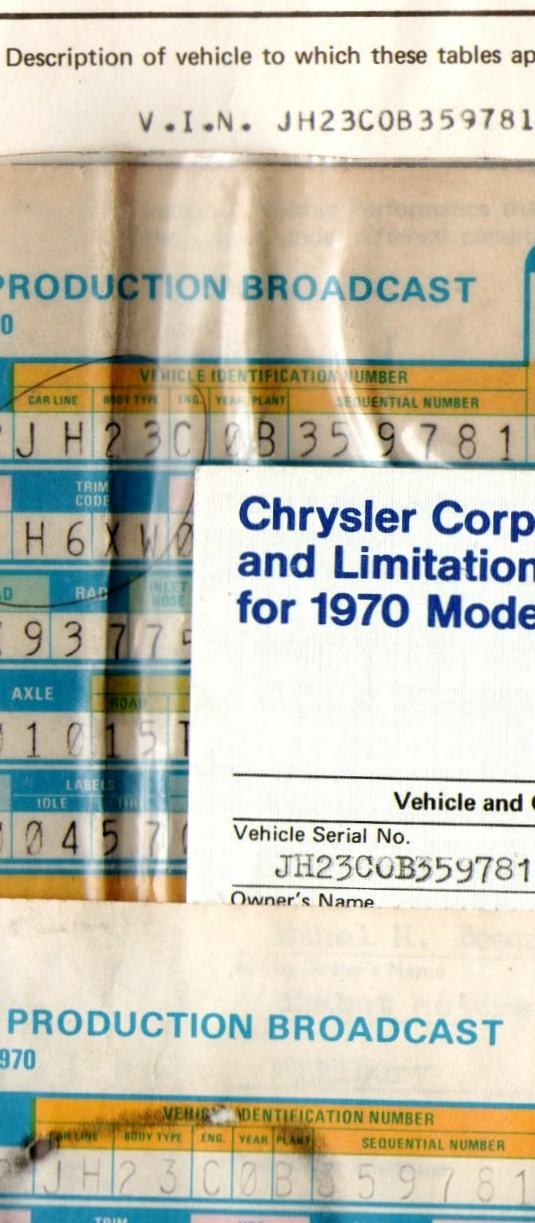 As always, proof of legal ownership & proof the car still exists will be required to claim this item.
Thanks for sending these in Ray. I will let you know when they are claimed!
Barry Washington
| | |
| --- | --- |
| The goal of the 1970 Hamtramck Registry is to provide an organization for the owners and admirers of these cars. Through the registry we will collect information to try and build an accurate historical record of these cars and use it to help the members when possible. This includes matching up found broadcast sheets, other paperwork or serial numbered components such as fender tags, engine blocks and transmissions. Since Chrysler Corporation chose not to keep records on these cars, creating a database to try and accurately record the information on these cars for historical purposes is one of the major functions of the Registry. | |
Please click the "REGISTER" link on the left, download the Registration Form in either PDF, HTML or MS Word format, fill out the form as completely as possible and mail it to me at the address above.
If you have not done so already, I urge you to search your car for broadcast sheets. Sometimes there can be as many as 5 in one car, so if you do find one, please keep looking as there could be more. They do not always match the car they are found in due to how the assembly lines at the plant were run. If you find any sheets, please let me know if they match or not. It is very common to find a sheet for a different model of the same car. I have also heard of Challenger sheets in Cuda's, Duster sheets in Challengers & so on.
These locations are all typical for 1970 Hamtramck built cars. LA built cars are less likely to have broadcast sheets inside them because the plant had a 'no trash' policy. They have been found at times though, so you still need to look!
Here are some places to look: BC Sheet Location Pics
Taped to the back side / top of the glove box insert.

Under the front bucket seats in the springs

Inside the bucket seat backs

Under the rear seat bottom

In the rear seat back.

Under the package tray (speaker shelf)

Under the carpet
Please check all these locations and let me know what you find?
You can also check the 'FOUND' section here at Hamtramck-Historical.com to see if anything that matches your car's VIN has been found & sent in.
Thanks to the people all over the world that have sent these items in. Over 400 have been claimed so far & well over 8,000 more are still waiting to be claimed!
Thank you all,
Barry Washington at The 1970 Hamtramck Registry and The Challenger T/A Registry